Alvvays is the rare band, whose work listening opportunities don't decrease even if time passes from release.
Though it is a fact of the feelings of many people that their 2nd album which completely performed metamorphosing from 1st album as a substitute for greetings is a super excellent record,
I think about what attracts me that much all the time.
Though anything actually wants to merely indulge in a played sound without thinking,
I decide to talk a little because their overwhelming charm doesn't permit my laziness.
In my opinion,
Alvvays become the icon of compiling it into one stream of the big river called Indie-Rock which had been formed of a branch of some until now.
With just only two albums.
Possibly it may be a hasty conclusion. Or it may be a fantasy.
But in the first place Rock in itself was a common fantasy,
and was the music not the device which dreamed?
There is "the completion form" of Indie-Rock in the present in front of us now.
The euphoria to be able to taste out of the same period-like joy since Pains of Being Pure at Heart.
And to give that feeling, as for it not being the U.K.,
being the United States and Canadian band,
I have very interesting that the key which Alvvays was able to become of compiling Indie-Rock into one stream.
Feeling of Pop of 60's, feeling of Creation and D.I.Y-mind of Post-Punk, feeling of Lyricism of Neo-Acoustic, feeling of Beauty-Worship of Shoegazer, feeling of Floating of Dream-Pop.
The sense of the ecstasy that we loved it from music given by many bands until now and sensed bodily.
And the new sense will continue desiring from now on.
Alvvays has the sense everything ; include that azimuthally.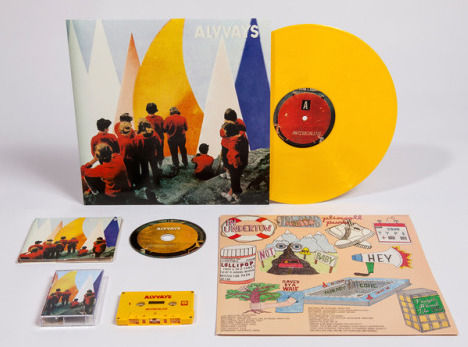 I expressed a certain thing in front of us to "completion form" some time ago,
however in other words, we just do stand in front of "the stratum" where covered with vivid colors.
"The stratum of Indie-Rock" which deposited the sound that had been inherited.
"The stratum of an annal history" which soar and continue flowing perpendicularly,
against the big river which they receive various branches.
The sound performed from Alvvays echo overlap in "the sound layer" and "the history layer".
We have come to cannot but make ecstasy with the red dress like baby in front of very beautiful layered scene landscape.
It's like a cover-jacket of Alvvays' 2nd album "Antisocialites."
A feeling of ecstasy pours into us with a high quality melody.
As for their style, the vocalist who is a beautiful woman seems to be in danger.
We do highest luxury to meet their music,
neither the ear nor the eyes nor the heart is left forever from Alvvays.
We never escaped from the pleasure of the ecstasy that we have tasted once.
Probably there may be it whether the key clearing up Alvvays,
they had "a pureness" and "the mind" that can only take the above-mentioned sense in own style without flinching.
* Japanese version is
HERE