2007年09月30日
2007年07月24日
2007年07月20日
2007年07月17日
2007年07月09日
2007年07月05日
2007年07月04日
2007年07月02日
2007年06月30日
2007年06月26日
2007年06月22日
1時間で人生を変える
At the moment, I am reading a book
called, "The Power of an Hour".
The concept of the book is very
simple:
1. Choose an area of your life that
you want to improve.
2. Schedule a one-hour block in your
week to think deeply about the topic.
3. Spend the first 45 minutes
brainstorming on the topic.
4. Spend the last 15 minutes making an
action plan and taking one small action.
5. Do the actions on your action plan
until the project/goal is finished.
It sounds simple, right?
It is - it's very simple
But when I talk to people about this
topic, everybody says it is a good
idea and that they want to do it, but
in reality nobody does it.
Why?
I don't know why...
Photo: candles to help me think about this topic!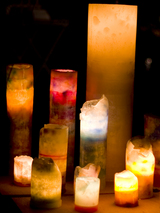 2007年06月18日
2007年06月12日
2007年06月07日
2007年06月06日
2007年06月04日
2007年06月01日
2007年05月29日
2007年05月23日
2007年05月15日