2006年02月23日
Little india !
Hello people! ;D
Yeah this was supposed to be sent a few days ago, however, due to some techical problem....
Anyway! Here it is...pics taken from a trip to Little India Singapore! I'dlike 2share wit yall. At the same time there was a casual photoshoot thatwent on too.
Ah here I am posing in the waiting area and gazing at the sky waiting to get my eyebrows done.
A clear view of how threading is done. I would go to L.I. to have my eyebrows threaded. And painful it may be but it's worth it. Check it out.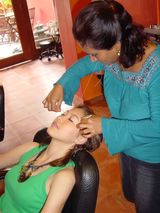 Threading gives a good clean and shapely neat eyebrows. I like it. Plus it's cheap! S$5-S$6. Only trust the Indians to be experts at threading. I usually head down to L.I. with my cousin + sista to have my eyebrows groomed or for
the food.
Yes yes there are good eateries there if ya know where to go.My cousin and my sista have keen interest in the Indian culture, the people,India and Bollywood! So they know places at L.I. too. Infact, they've beento India quite a few times as well. The interest and passion that they bothshare have enabled me to appreciate the Indian culture more. I'd like tocredit my cousin for introducing and recommending her favs as well as what's good.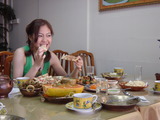 Just look at the spread, a mixed of Napalese and Northern Indian dishes set before me...all yummylicious. Ooh yes yes yes you see that peice of naan I'm holding? My all time fav - Kashmiri naan, baked with sweet dried fruits is also an excellent complement with almost any Indian gravy. Ya know..I'm actualy quite a foodie person ;P! Anyone fancy for a meal at Aishiyana then?
We headed to check out some accessories at the Arcade, stopping by atKumar's shop. Just for fun, I was fitted with the Indian traditional wedding head dress. Pretty isn't it?The Indian culture from its costumes, fashion, beauty, food, bollywood filmsetc is truly unique and original.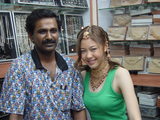 Why not include L.I. in your itenarary in your next stop at destination Singapore? Come on down to Little India sometime :D Plus there's a 24hr supermarket at Mustafa. Should be interesting!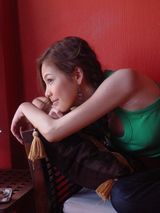 ハーイ みんな!
これはシンガポールのリトル・インディアに行ったときの写真です。
まず2本の糸で眉毛を整えるシュレッディングです。インド式の毛抜きなんだけど大して痛くも無くすごくいいです。350円くらいでできます。
お姉ちゃんといとこは、すごくインドの文化に興味があるんです。ボリウッドとか!だから彼女達はリトル・インディアにもくわしいの。私にいろんなことを教えてくれます。
インド料理大好き!とってもおいしいの!私がナンを持ってる写真わかる?甘いドライ・フルーツがのってるこのナンが大好きなの!私食べるの大好きなのよね。
それからアクセサリー・ショップめぐりもしたの。試したのはインドのトラディッショナルな結婚式のときの髪飾りです。かわいいでしょ?
インドの服とか美容法とか食べ物とかボリウッドとか、ホントみんなユニークでオリジナル!もしシンガポールにくることがあったらぜひリトル・インディアに寄ってみてね!24時間オープンのスーパーマーケットがムスタファにあるんだけどここも最高よ!
(上記日本語文章はスタッフが要訳したものです。)