2006年05月17日
Back to Tokyo!!
Helloooo everyone! Im back inTokyo wit my momie. yeah! My mom cooks delicious food for me. im really thankful for my mom so praise God!Ive finished recording and had a photoshoot for AGMB 2 and so Im anticipating the finished products! Its good stuff. Look out for it!! It shld be out sometime in June. You guys will be updated. Im back in Tokyo to work on yet another album, a mini album summer treat!
U see my expression in that picture(sans make up, just got back frm the gym)? That says, "Wat?! All the way to/from Hong Kong and scotland?" You all are so sweet! Thank you for your support and do continue to support! hee Honto ni ureshiiiiiiiii desu! - im really happy+ glad.
Advice? Wow really seems like coincidence huh. Spore is an easy place to live in- multicultural, cosmopolitan, lotsa attractions like the Spore Nite Safari, Bird Park. Clubbing? ZOUK is a good place to start. Go visit Holland Village/East Coast Park for good cafes/bistros, China Town, Little India to name a few. Go read up! You know good food and music always bring ppl together. Ask abt where to find good local food, its a gd conversation starter!
Right now there are no fixed plans yet for a tour performance as several things are still in process but u will be updated :)
Kip ur comments coming!ciao for now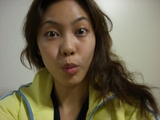 ハーイ!みんな元気?東京に戻ってきました。ママも少しの間来てくれていて、おいしいお料理いっぱい作ってくれました!
シンガポールで「a girl meets bossanova 2」のレコーディングとジャケット用の撮影が終わりました!すごくいい出来なので楽しみです!それとこれからは8月に発売予定のセカンドアルバムのレコーディングに入ります。
(中略)
まだ詳しい活動予定は未定なんだけれど、決まったら私のウェブサイトにアップしていくのでチェックしてね!
チャオ!