On January 13, a signing ceremony was held for Grant Assistance for Japanese NGO Projects.
At the ceremony, Mr. Masahiro Mikami, Ambassador Extraordinary and Plenipotentiary of Japan to Cambodia, and Ms. Ishiyama, Country Director of PHJ Cambodia Office, signed a grant agreement regarding
"Project to strengthen community care and support network for children in Kampong Cham Province (Second Year)".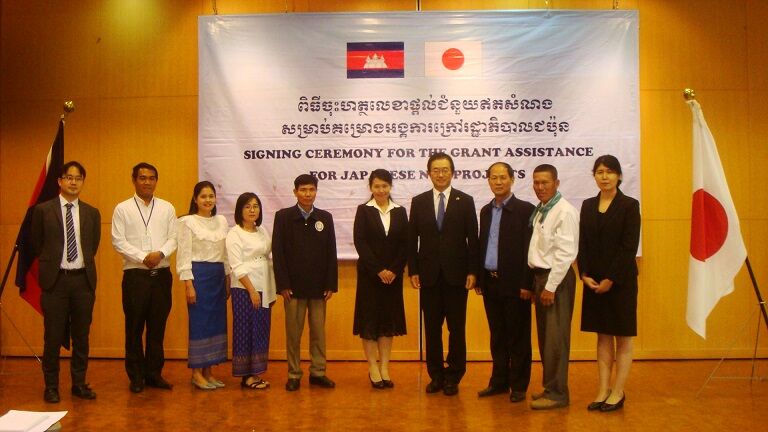 Ms. Ishiyama expressed her gratitude for the execution of the agrement as follows:
His Excellency Ambassador Mikami, and all staff members of the Embassy of Japan in Cambodia,
Foreign Ministry officials,
Dr. Tang, Director, Kampong Cham Province Health Department,
Dr. Yim,Chief of Stoung Trang Operational Health Dstrict, and
Ladies and gentlemen,

We have just concluded the "Agreement for Grant Assistance for Japanese NGO Projects." I am truly honored to attend this signing ceremony at the Japanese Embassy today. As I signed the agreement, I was filled with a special feeling. I would like to explain why I had such special feeling. When I was in elementary school, I remember a picture that my homeroom teacher showed me . He said, "this picture was taken in a foreign country, and the construction of the building was supported by the Japanese government." When I heard that my country, Japan, was contributing to other countries, I was so excited that I could not say anything.
It was the first time in my life that I felt proud as a Japanese.
Now, I am standing at the signing ceremony as the head of an NGO engaged in maternal and child health activities to improve the health of children, the future leaders of Cambodia. I am filled with pride as
a Japanese, which I felt for the first time when I was little.

The act of helping others goes around. Looking back, Japan was also in a position to receive ODA after the World War II. Now, as a Japanese, I am very happy to be involved in the noble cause of this recompense.

Our project site, the Stoung Trang Operational Health District in Kampong Cham Province, has many child health problems. For example, many children older than 6 months are stunt and underweight. To improve,
caregivers need to know enough about the child's growth and illness. In the first year of the project, we focused on the capacity building of health staff and supporting health facilities. In the second year, we will focus
on strengthening the capacity of VHSG and CCMN and disseminating child care knowledge to caregivers.

We have carried out our activities based on the idea that support that enables local communities to be independent is true support. To this end, we have always kept in mind the importance of their self-esteem and
independence of the local people as well as the spirit of helping each other, not distinguishing between the one who provides aid and the one who receives it.


The other day, the Embassy staff attended the opening ceremony of the new postnatal care room that People's Hope Japan supported. We were grateful for their understanding and cooperation, which enabled us
to fully use our capacity and abilities to conduct the activities.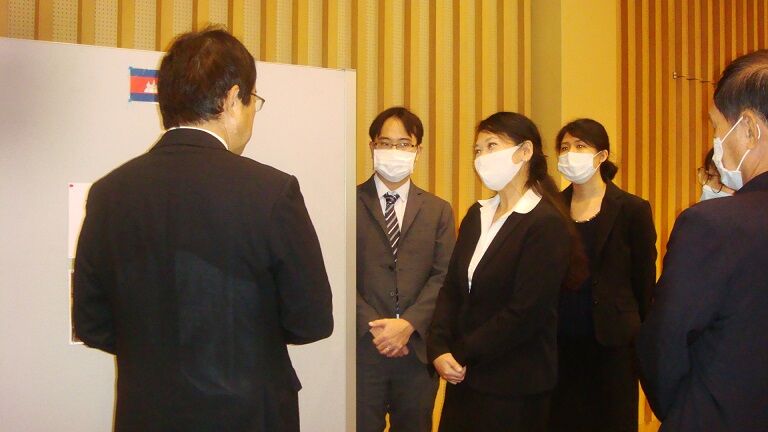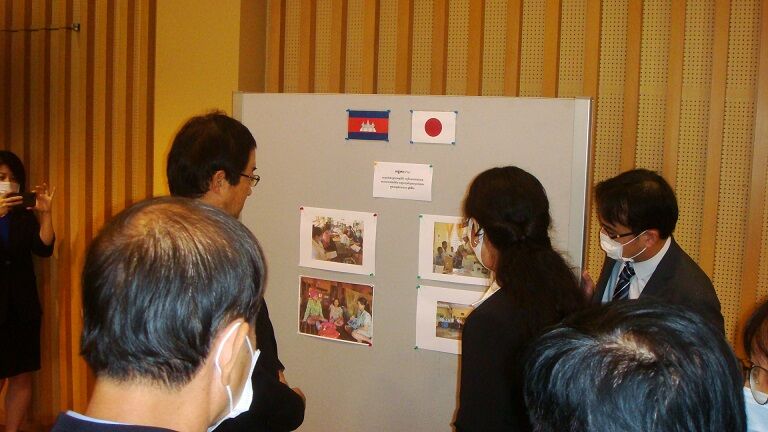 Finally, we will never forget that our activities are carried out not only by us, but also by all Japanese people. We will continue our activities, conveying the heart of the Japanese people to the
Cambodian people and building friendly relationship.
We look forward to your continued support and encouragement.
Thank you for signing the agreement and organizing the sigining ceremony today.
Kanako Ishiyama, Country Director, PHJ Cambodia Office