ようやくリミックスがひと段落。後はレーベルの返事待ち、と。。思ってたより時間かかっちゃったなー…。この辺りが本格的に落ち着いたら、自分の曲をやろうかと思います。
というわけで、今週末はサムライブ。アキラがやっていたCARDを手がけていたWEDGEのアベさんの勇退パーティです。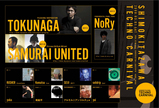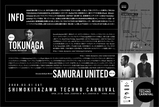 "SHIMOKITAZAWA TECHNO CARNIVAL"
DATE:2008/03/01(SAT)
OPEN:22:00
VENUE:
WEDGE
DOOR:2500YEN/1D
W/F:2000YEN/1D
GUEST DJ:TOKUNAGA(PLEASING/INSPIRATION)/NoRy(FUNDAMENTAL/PARK/VANG)
GUEST LIVE:
SAMURAI UNITED(Chizawa Q & Ryoh Mitomi)
DJ:RUSHER(GroundCobra)/Komatsu(form)/SEIJI(UNITY)/solidrip(Spiel)/yuka
Laser:滝絋平
PERFORMANCE:アルモルニアンゴルチェ★
HAIR MAKE:yui
そして、3月28日(金)には西麻布のColors Studioでアキラ・イシハラ、チザワの兄貴、香港のイマイさんと新しくレギュラーパーティ"Naska"をスタートさせます。DJだけじゃなくて、それぞれアーティストとして活動しているメンバーが中心となっているパーティで、そういう意味でもみんなそれぞれ個性が出てくるような気がして、今から始まるのが楽しみです。そして、第一回のゲストは、Dessousからのリリースも記憶に新しいRyo Murakamiさん。楽曲のクオリティは、もはや保障済みでしょうw。毎回セットが変わるというライブに期待大!
"Naska"
Date:2008/3/28 (Fri)
Venue:
Colors Studio
Open: 23:00-06:00
Fee: 2,500/1D 2,000(1D) w/f
** Live
Ryo Murakami (Dessous)
** DJ
A-inc (Cumminum, Junion)
Ryoh Mitomi (Immigrant, Samurai United)
ChizQ (Slur, Samurai United)
Imai Fukutaro (intermix Hong Kong)
** Lounge DJ
Qurea
Yukki
YUKINA
Ronnie-imym (ignite)
about Colors Studio
東京都港区西麻布2-25-23バルビゾンビル27 B3F
TEL: 03-3797-5544
FAX: 03-3797-5544
EMAIL: info@growcreation.com
そして、いよいよ3月24日(日本はもう少し後かも…)には久々のアナログEP『Ballet EP』がリリースされます。リミックスには、Intactからのリリースで注目のPolder、デジタルオンリーのボーナスリミックスでA-inc a.k.a Akira Ishiharaが参加してくれています。是非w!!以下、レーベルから届いたプレスシートをそのままコピーww。
NEW RELEASE!! "BALLET EP"
Artists: RYOH MITOMI
Title: BALLET EP
Trk 1: Pointe (Original Mix)
Trk 2: Stranger than Paradise (Original Mix)
Trk 3: Pointe (Polder Remix)
Bonus Digital: Pointe (A-inc Remix)
Cat No: IMM.034
Release Date: March 24, 2008 (Vinyl) :: March 24, 2008 (Digital)
Label: Immigrant Records
Format: Vinyl // Digital (320kbps mp3)
What better way to kick off this new year with an outstanding EP from our latest signing hailing from Japan. RYOH MITOMI is becoming a producer to watch in 2008 through his recent releases on Belgium infamous R&S RECORDS, Technasia's MINIMAXIMA and Canada RESTRUCTURED RECORDINGS. Ryoh's debut IMMIGRANT EP showcases Ryoh's versatile production style of pure techno to house. Talented Dutch duo POLDER supply an outstanding remix for the 12inch while Ryoh's fellow Japanese producer A-INC offers a bonus digital remix. Look out for solo EPs later in 2008 from both Ryoh and A-inc.
---------------
Preview the tracks online
Trk 1:
Pointe
Trk 2:
Stranger than Paradise
Trk 3:
Pointe -- Polder Remix
Bonus Digital:
Pointe -- A-inc Remix