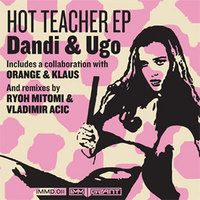 Artist: DANDI & UGO
Title: HOT TEACHER EP
Trk 01: Hot Teacher (Original Mix)
Trk 02: Riplik (Original Mix)
Trk 03: Glandibus (Dandi & Ugo vs Orange & Klaus)
Trk 04: Hot Teacher (Ryoh Mitomi Remix)
Trk 05: Hot Teacher (Vladimir Acic Remix)
Cat No: IMMD.011
Release Date: May 19, 2008
Label: Immigrant Digital
Format: Digital (320kbps mp3)
This second Immigrant Digital EP of 2008 clicks, squeaks and bounds across the miles once again courtesy of fresh Italian talent - this time we welcome into the fold Dandi and Ugo. The hard hitting duo have had successful releases on Italy's Stereo Seven and, recently, a host of German labels including Munich's Great Stuff and Berlin's Artminimal. Their three digital tracks here are accompanied by remixes from Vladimir Acic in the left corner representing Serbia, and in the right - Immigrant's own Japanese import, Ryoh Mitomi. The result? An internationally sourced bruiser of an EP. Don't say we didn't warn you.
01 – Hot Teacher (Original Mix).
Here Dandi and Ugo articulate the story of every adolescent fantasy. The tone finds itself as optimistic as it is intimidated - a predatory, driving bass line is punctuated by excitable schoolboy squeaks, drips and drops of consistent over-imagination and stabs of lusty synth building headily in anticipation of a chance encounter. Alas, hopes are dashed in chords of emotive heartbroken harmonies and the dark agitated analogue grit of a rejection. Saucy!
02 – Riplik (Original Mix).
Riplik jerks and crackles to a temperamental start before launching into an agitated, techy trip. Punctuated with distant voices and all the twitchy vibes of a panic attack, it tells the story of a dude who 'got off at the wrong bus stop'. If you're feeling a bit delicate today, this might just tip your over the edge with its sheer persistence – it's like ending up in Peckham when really you wanted Kensington. Argh.
03 – Dandi & Ugo vs Klaus & Orange - Glandibus (Original Mix).
In contrast, subtle beginnings lead to heady mania with this track. A solid base underpins a plethora of warm, drip-dropping sounds whilst quirky synth effects race up and down the scale competing for attention, building to several peaking crescendos before subsiding to begin their cheeky little game again. It's difficult not to let a smile creep over your features with this one - a very playful and curious sound to launch proceedings.
04 - Hot Teacher (Ryoh Mitomi Remix).
Building on the lusty adolescent frivolity of the original mix, Mitomi's re-work ages a year or two to power forward with insatiable strength and energy, hard and industrial masculine judders layer and almost quash the original emotive harmonies of unrequited love in a malevolent act of revenge. As relentless as a dose of viagara, Mitomi delivers his er, load, before … abruptly … stopping. Good work.
05 – Hot Teacher (Vladimir Acic Remix).
Finishing off this EP comes Acic's re-work which builds on Mitomi's version to drive forth into shadowy lands. If fantasy is the order of the day, one can only guess at the state of Acic's libido as he takes this track into entirely different territories. Darker and more driving, its disturbing sampling perhaps portrays a more perverted type of sicko fantasy that is almost scarily savage. Whoever the teacher was, she ain't no more, and we don't want to know where it all went wrong. Or right, indeed.