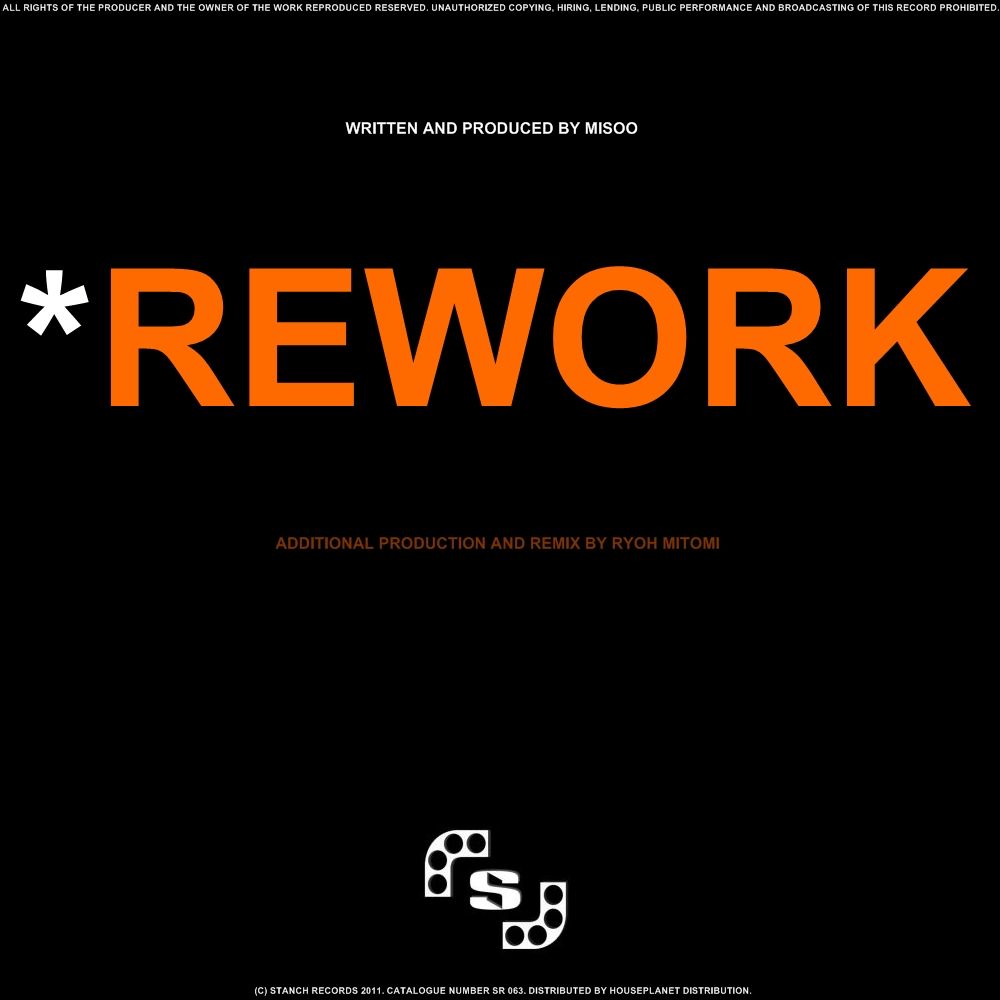 -Tracks available in this promo -
"Rework"
Misoo - Rework (Original Mix)
Misoo - Rework (
Ryoh Mitomi Remix
)
Misoo - Lost (Original Mix)
"Rework" will be available exclusive 4 weeks at Beatport 17th
of October, 2011.
14th of November, 2011. release will be available worldwide (iTuens, Juno Download, Trackitdown, WhatPeoplePlay, Nowtrax, etc...).
Sample track :
http://soundcloud.com/ryoh-mitomi/rework-ryoh-mitomi-remix
*Reactions of DJ's:*
Richie Hawtin (Minus)
"download for r hawtin"
Paul Oakenfold (Perfecto)
"Thanks! Downloading for Paul Oakenfold."
Markus Schulz (Armada Music, Ultra)
"will try thanks"
Umek (1605)
"downloading"
Slam (Soma, Paragraph)
"will try out thanx"
Mark Knight (Toolroom)
"cool deep beats"
Erphun (Brood Audio)
"Original mixes are cool tools! Tnx"
Ken Ishii (Circle Music, Plus 8)
"Great breakdown on Ryoh Mitomi Remix!"
Cristian Varela (Pornographic)
"oh yeah!!"
Maor Levi (Armada Music, Ultra)
"Sweet!"
Horatio (Kontor, Vendetta)
"nice ep i like it"
Alex Roque (Le Mans, Pacha)
"solid release!! +10"
Roland M. Dill (Trapez, Traum)
"excellent release, full support from me! will play both versions of
"rework""
Gordon Howarth (Le Mans, Recovery House)
"Nice Track!"
Todd Burns (Resident Advisor)
"Thanks! Downloading."
Klaudia Gawlas (Kontor, Night Light)
"Original mix for me! thx!"
Jakal (Kontor, KNM)
"Rework very nice"
Vladimir Acic (Italo Business, 1605)
"Very nice, thanks!"
Stefano Lotti (Sleaze, Suara)
"Downloaded"
Angelo Ferreri (303Lovers, Elegant Bit)
"Nice."
Perception Of Sound (3 Liquid Hz, Sebian)
"good job"
Vinayak A (Baroque, Babylon)
"good stufff :) thanks a lot"
Simone Vitullo (Go Deeva)
"downloading"
DJ PP (Tiger, Vendetta)
"great ep thanks"
DP-6 (Black Hole, Naked Lunch)
"Reowrk original is interesting. Will try"
Olderic (Area Remote, Saved)
"Lost is for me.. will support !"
Noah Pred (Thoughtless Music)
"Originals for me thanks..."
Ruslan Mays (TechHead)
"stupidly / hook! hehhe thank you and test play"
Anderson Noise (Noise Music)
"downloading thanks"
Laurent N. (d:vision, HiFi Stories)
"Nice release with a good remix by Ryoh Mitomi. Will play & Support !!!"
Pedro Delgardo (Yin Yang)
"downloading"
Gonzalo Menoyo (Hugh, Blanco y Negro)
"Interesting sounds... Thanks!"
Alfonso Padilla (South American Sounds)
"Excellent tracks."
Paride Saraceni (Autist, Respekt)
"mitomi remix sounds ok"
Cactus Twisters (Baroque, MB Elekronics)
"Rework nice tune ! thanks"
Thomas Penton (Electric Candy)
"R.M. mix is cool."
Many Thanks,
Stanch Records Promotions Team
Link :
http://www.stanchrecords.com