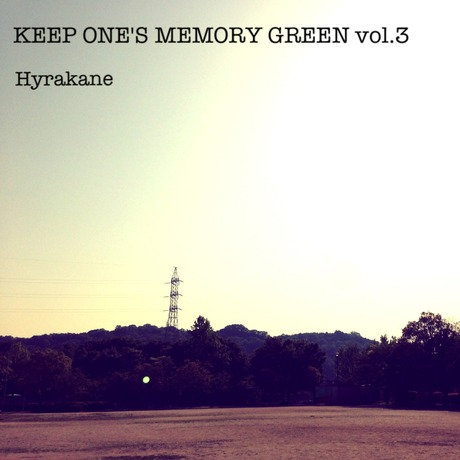 これは期待できるミックスが。普段音楽聴かない人にも是非。いい音楽聴くといい生活送れるよ。知ってた?
Hyrakane KEEP ONE'S MEMORY GREEN vol.3 mixed by DJ TAKADA (DOWNLOAD)
SWV "Co-Sign"
Chrisette Michele "I'm Your Life"
Angie Stone "Do What U Gotta Do"
Jill Scott "Lovely Day"
Elle Varner "Runaway"
Eric Benet "Harriett Jones"
Chris Brown "Fine China"
Lianne La Havas "Forget"
Janelle Monae "QUEEN feat.Erykah Badu"
Idle Warship "The Floor"
Justin Timberlake "Suit & Tie"
Toro y Moi "Say That"
Yuna "See You Go"
Mayer Hawthorne "A Long Time"
PJ Morton "Fly Away ( Ft. Anaysha )"
Zo! "Driving feat. Sy Smith"
Rahsaan Patterson "I Only Have Eyes For You"
The Internet "Love Song - 1"
Ledisi "Simple"
Monica "It All Belongs To Me (Feat. Brandy)"
Joy Denalane "Wo Wollen Wir Hin Von Hier?"
Mayer Hawthorne "Dreaming"
Monica "Until Its Gone"
Ledisi "Pieces Of Me"
Joy Denalane "Siehst Du Mich"
Vivian Green "Supposed To Be Mine"
Bridget Kelly "Thinking About Forever"
Frank Ocean "Thinkin Bout You"
Miguel "Quickie"