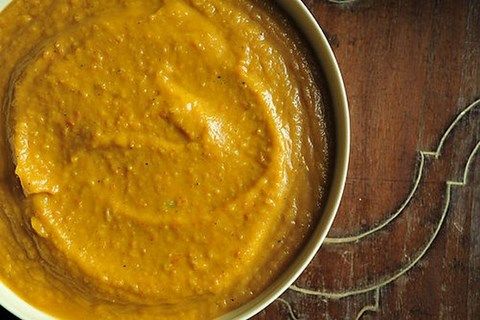 Author Notes: For a family dinner this past Tuesday, I was really excited to use some butternut squashes that I got at a farmstand outside of Ithaca, NY. Lately, for soups/purees, I have been roasting my butternut squashes in the oven and then peeling the skin off. This is much easier than peeling before cooking and the roasting imparts a fuller flavor. You could also substitute acorn squash for the butternut squash as well as throwing in a potato or sweet potato in the mix
dermes
. I find that this is one of my most versatile recipes as sometimes I will make a batch of this and then thin it down later in the week or leave it thick depending on what's for dinner. A thick version (not diluted by any more stock) might be the base for my husband's chicken curry and the further thinned out version may be my dinner served with a dollop of cilantro pesto and some whole grain bread.
Food52 Review: This is butternut squash puree meets Southeast Asian flavors. It's mellow and creamy with warm spices and ginger. Testkitchenette points out that this puree can also be a soup if you thin it with broth -- we wholeheartedly agree. We loved this puree's versatility. We can imagine making it as part of an Indian meal as easily as we could see it on our Thanksgiving table with turkey. Testkitchenette has you cube the roasted squash before adding it to the pot with the coconut broth. We found that it's so soft, it's easier just to scoop out the squash in spoonfuls. It all gets pureed in the end, anyway, so it's an ideal recipe for those who hate precise chopping!
Serves 6
2 tablespoons coconut oil
2.5 medium butternut squashes, cut in half and seeded
2 large yellow onions, chopped
1 red pepper, seeded and chopped
1 jalapeno pepper, seeded and chopped
4 garlic cloves, chopped
2 inches fresh ginger, peeled and chopped
1 tablespoon naturally brewed soy sauce (tamari)
1 tablespoon red curry paste
2 teaspoons garam masala (preferably) or curry powder
1 14 oz. can coconut milk
2 cups low sodium/no sodium vegetable broth
salt and pepper to you taste
1 handful cilantro, chopped
Preheat oven to 375F and lightly coat a large cookie sheet with olive oil.
Sprinkle each half of butternut squash with salt and pepper and lay cut side down on cookie sheet. Bake for about an hour until fork tender. Let cool for a bit and peel skin off
elyze
, I used an old grapefrut spoon but you could use a paring knife. Cut into chunks.
While butternut squash is roasting you can get started on the soup. In a large heavy bottomed pot heat up coconut oil at medium heat. Add in onions, garlic, and ginger and saute till onion turns transluscent (about 8 min.). Add in red pepper, jalapeno, season with salt and pepper and cook for about another 10 minutes (stirring and taking care not to burn). I started with 1 tsp of salt and a few grindings of black pepper.
Add in soy sauce, red curry paste, garam masala/curry powder and stir to coat. Add in coconut milk, veggie broth, and 2.5 of the roasted butternut squashes and stir to combine. I used my potato masher to further mash up the butternut squash.
Bring to a boil and simmer for approximately 30 minutes. Puree if desired in batches in blender. Return to pot and add extra broth depending on how thick/thin you want it to be and season to taste. When ready to serve
reenex
, sprinkle the cilantro over it.