Although it's not well-known, credit should be given to Livorno's Jewish community for first showing the Tuscans how to use tomatoes in their dishes, and this classic dish is a brilliant example of how it was done. It's still a favorite of Livorno's Jewish cuisine and possibly one of the best ways you can prepare red mullet.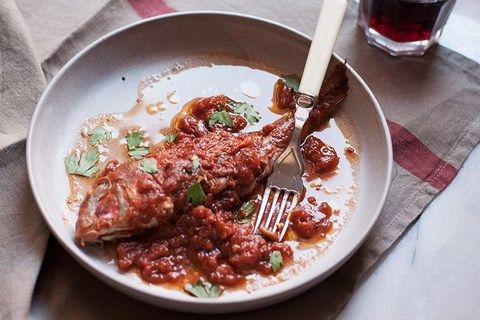 Serves 4
4 whole red mullets, each about 7 inches long
Salt, for seasoning
4 tablespoons extra-virgin olive oil, plus more for drizzling
1 clove garlic, whole
1 pinch dried chile flakes
One 14-ounce (400 gram) can chopped tomatoes (you can also use fresh tomatoes, peeled and de-seeded)
1/2 cup (125 milliliters) red wine
Handful of fresh flat-leaf parsley, chopped
Crusty bread, for serving
Carefully scale and gut the mullets and snip their fins off with kitchen scissors but keep them otherwise whole. Sprinkle them with salt on both sides and set aside.
In a skillet large enough to hold the fish, gently heat the olive oil. Add the garlic clove and infuse over low heat until the garlic begins to become fragrant but not yet colored, about 5 minutes.
Add the chile flakes and the tomatoes, followed by about 1/4 cup (60 milliliters) of water. Cook over medium heat for 2 to 3 minutes, then add the wine. Bring to a simmer.
Add the mullets to the pan. Cook for about 3 minutes on each side, flipping them carefully so as not to break them. If the tomatoes begin to dry out too quickly, add more water to the pan. Serve with parsley scattered over the top, a drizzle of extra-virgin olive oil, and plenty of crusty Tuscan bread to mop up the juices.