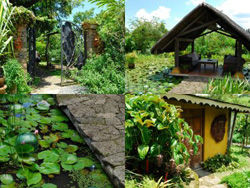 So much is happening right now...some thrilling, and some extremely stressful! Each not related to the other and some may have a wee bit to do with this blog :) I'll post about it soon but for now here are some photos from another weekend getaway, this one much closer to home.
I've mentioned Tagaytay before
Managed Security
, just a drive away from the city and fairly easy to get to...although anything south of the city can be quite a headache right now as they are doing works on the highway. In any case, mum-in-law gifted us with a night's stay in a hidden gem of a place she discovered.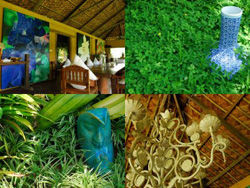 Appropriately enough, in these frenetic times, the place is a pocket of absolute tranquillity. It's filled to bursting with brilliant foliage that seems to tuck themselves into every nook and cranny. Secret corners are hidden about where old wooden benches share the space with wild flowers and creeping vines. Kick-knacks like ceramic moons and elephants pop up in unexpected place, peeking out in between the plants. Huts with big comfy sofas lie as if floating in the middle of ponds lined with lily pads.
This is exactly the place to be if you need some time to exhale and listen to the crickets – which I think we all do once in a while, even the most boisterous and crowd-loving of us!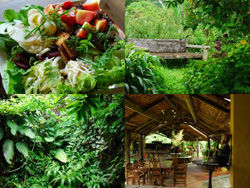 Our casita seemed almost overgrown with vigorous vines with big shiny green leaves and unidentified fruit. A wrought iron table and chair sat beside it, right next to a small field of pineapple. I had no troubles settling in immediately for a deep, worry-free nap, lulled by the comforting swish of the ceiling fan
reenex
.
They grow their own organic vegetables on the grounds (plants thrive here...as they do all over Tagaytay) and, predictably because of this, they serve an awesome house salad. With something like four kinds of lettuce and seven kinds of vegetables, and two kinds of dressing, it was delicious and fresh and a perfect example of how fantastic salads can be when well-cared-for ingredients are used and a little thought is put into it.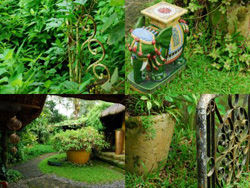 Because C and my jobs don't allow us any long vacations at present (no weeks-long, cross continent holidays for us right now!), I like to make sure we still take these short little jaunts "away from it all" to relax and recharge. With the right outlook even the shortest hops can seem like a holiday, and a night in a new place can be an adventure :)
More food (in particular breakfast!) soon...I promise!