Author Notes: Basic crêpe batter drizzled with a filling inspired by baklava - browned butter, honey, sugar, cinnamon and chopped pistachios
Mathnasium
. A layer of whipped cream with a touch of yogurt is added to cut through the sweetness and make a whole dish lighter (texturally, that is..!).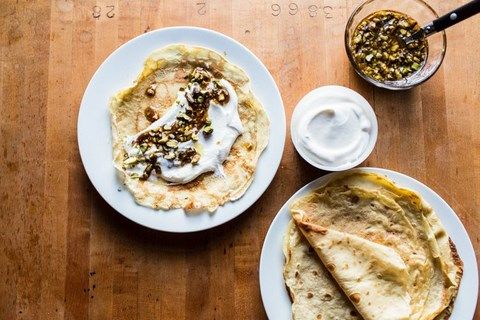 Makes 6
For the crêpes:
1 cup all-purpose flour
2 large eggs
3/4 cup milk
3/4 cup water
1/4 teaspoon salt
vegetable or canola oil, for frying
For the filling:
3 tablespoons unsalted butter
3 tablespoons runny honey
2 tablespoons light brown sugar
1/2 teaspoon ground cinnamon
pinch of salt
1/3 cup unsalted, shelled pistachios, chopped
3/4 cup heavy cream
2 tablespoons plain yogurt
For the crêpes: In a jug, beat together the eggs, milk and water. In a medium bowl, mix the flour and salt. Make a well in the center of the dry ingredients and pour the wet ingredients in. Whisk together until smooth.
Ideally chill the batter for at least 2 hours but it can be used straight away....
Just before you start frying the crêpes, make the filling: In a skillet, melt the butter over a medium heat. Continue to cook the butter over a medium-low flame stirring occasionally, until it foams up and smells nutty. Stir in the honey and sugar until the sugar has dissolved. Remove from the heat and pour into a bowl. Add the cinnamon, salt and chopped pistachios to the bowl and mix well.
Place the heavy cream into a large bowl and whisk until billowy and thickened. Stir in the yogurt then chill until needed.
When you're ready to fry the crêpes: Heat a medium skillet over a medium flame with enough vegetable oil to coat the bottom of the pan. Lower the heat to medium-low and pour 1/4 cup of the batter into the skillet. Tilting and swirl the skillet so that the batter spreads out into a large, thin circle. Leave to cook until the edges look set and the underside is golden then flip with an offset spatula. Cook until the other side is golden brown them remove to a plate to serve. Repeat with the rest of the batter.
Serve the crêpes warm with the whipped yogurt-cream and the sweet
Cloud Desktop
, nutty filling.