みなさま連休はいかがお過ごしでしょうか?
この度 産業医科大学若松病院の畠山昌久先生が first authorで執筆された
境界型寛骨臼形成不全に対する関節鏡視下関節唇修復術、関節包縫縮、cam osteoplastyの論文が、 American Journal of Sports Medicineに アクセプトされました。
採択率5%の難関で  reviewのコメントも60個くらいでしたが何とか乗りこなせました。
畠山昌久先生は ギラヴァンツ北九州のチーフドクターも務めておられ、スポーツ整形外科の現場で多くの選手や指導者の方から信頼されています。
現場での仕事量の多い中、この論文を仕上げてきました。
論文の要旨の原本を下記に記します
Background: Borderline developmental dysplasia of the hip (BDDH) is frequently diagnosed concurrently with cam impingement. While hip arthroscopy has advanced the treatment of hip joint pathology including femoroacetabular impingement (FAI), arthroscopic treatment for FAI in the setting of BDDH remains a challenging subset of patients. The risk factors of poor clinical results after hip arthroscopic labral preservation and FAI corrections in the setting of BDDH patients have not been well established.
Hypothesis: Preoperative and intraoperative findings can predict the poor clinical outcomes following hip arthroscopic surgery for FAI in the setting of BDDH.
Study Design: Case control study; Level of evidence, 3
Methods: Of patients with BDDH (defined as lateral center edge (LCE) angle between 20 and 25 degrees), who underwent arthroscopic procedures for FAI in the setting of BDDH between 2009 and 2014, there were 45 patients (45 hips, 15 males and 30 females) that met inclusion criteria. Their mean age was 31.4 years (range 12 - 65), and mean LCE angle was 23.2 degrees. Clinical and radiographic follow-up evaluations up to minimum 2 years after surgery were performed for all patients. Failure of procedure was defined as conversion to subsequent surgery or having a Tonnis osteoarthritis grade of 2, and success group was defined as patients who did not need subsequent surgery. Univariate analysis and Cox hazard proportional analysis were performed on both cohorts.
Results: Of 45 patients, 11 (24 %) patients had revision surgeries (endoscopic shelf acetabuloplasty for 5 patients, total hip arthroplasty for 2 patients and revision hip arthroscopy for 2 patient) or advanced to Tonnis grade 2 or more osteoarthritis and comprised the failure group. In the success group, modified Harris Hip score (median, preop. vs postop., 72.1 vs 100, p < 0.001, Wilcoxon signed-rank test) and Non-arthritic hip score (58.8 vs 98.8, p < 0.001) were significantly improved at minimum 2 year follow-up. Mean age of failure group was significantly higher than that of success group (median, 47.0 vs 20.0, p < 0.001, Mann-Whitney U-test). Age (≥ 42 year-old, hazard ratio [HR]: 11.6[95% CI: 2.5 to 53.9], p = 0.002, Cox hazard model), broken Shenton line (HR: 6.4[95% CI: 1.9 to 22.3], p = 0.003), large Tonnis angle (≥ 15 degree, HR: 3.9[95% CI: 1.2 to12.9], p = 0.03), small vertical center anterior angle (≤ 17 degrees, HR: 5.0[95% CI: 1.5 to 17.1], p = 0.01), Tonnis grade 1 at preoperative radiograph (HR: 3.6[95% CI: 1.1 to 11.7], p = 0.04), severe cartilage delamination at acetabulum (HR: 11.8[95% CI: 3.0 to 46.1], p < 0.001) and mild cartilage damage at femoral head (HR: 8.1[95% CI: 2.1 to 30.8], p = 0.002) were identified as risk factors of poor clinical outcomes.
Conclusion:
Pre-operative predictors of poorer outcomes from hip arthroscopic labral preservation, capsular plication and cam osteoplasty in the setting of BDDH are age ≥ 42 years old, broken Shenton's line, osteoarthritis, Tonnis angle ≥ 15 degrees, and VCA angle ≤ 17 degrees on preoperative radiographs. Intraoperative predictors of poorer outcomes are severe acetabular chondral damage and even mild femoral chondral damage. Although the patients in the setting of BDDH may have good outcomes from isolated hip arthroscopy, caution is suggested for those with the aforementioned risk factors.
Keywords: borderline hip dysplasia, arthroscopic surgery, risk factor, predictor of poor clinical outcome, capsular repair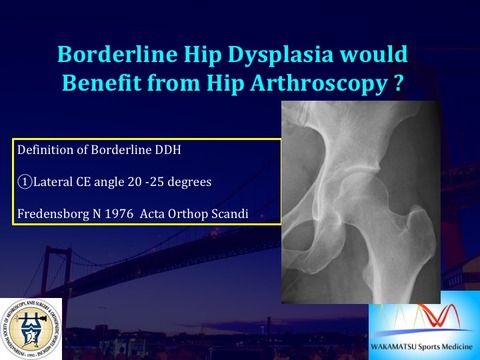 境界型寛骨臼形成不全は  CE角 20~25度で 正常化 リアルな寛骨臼形成不全との境界領域にあると言われています。
しかし結構 股関節唇損傷を患って 患者さんが来られます。
それに対して 関節鏡の手術を行っても、 76%くらいの人が 良好な成績ですが 24%は あまり良くありません。
関節鏡での安易に手術を受けルことがないように、どのような症例が成績不良であるかを記した
論文です。
これはよくなった患者さんもそうですが、あまり調子が良くない患者さんもいらっしゃる 
その患者さんがたが、私たちに教えてくださったことを世の中にまとめることができました。
この場を借りまして 深く感謝の意を表したいと思います。
以下が accept letterです。
AMJSPORTS/2016/209189
MS Title: Predictors of Poor Clinical Outcome following Arthroscopic Labral 
Preservation, Capsular Plication and Cam Osteoplasty in the setting of Borderline
Hip Dysplasia
Dear Dr. Uchida,
Congratulations. Your above-referenced manuscript has been accepted for publication
in an upcoming issue of The American Journal of Sports Medicine.
One or more minor changes are still needed, which Donna Tilton will share with you.
After these are made and once we have all the required files, the paper will be sent
to the publisher. You should receive a proof of your article once production is
complete. Please read your proof carefully to correct any remaining errors. The
paper will be published in the next available issue, depending on how many accepted
papers are waiting. Prior to print publication, your paper will be published
electronically on our website in the AJSM PreView section.
We look forward to working with you in the future.
Sincerely,
Bruce Reider, MD
Editor in Chief
Soshi Uchida work at  内田宗志 (DR SU)は下記の病院で診察をしています。
Wakamatsu Hospital for University of Occupational and Environmental Health (産業医科大学若松病院)
Wakamatsu hospital for UOEH

Arex Oyamadai Orthopaedic CLinic 右をクリック 
アレックス尾山台整形外科
Arex- Oyamadai English site
 第一 第3木曜日
Kyoto Shimogamo Hospital 右をクリック 
京都下鴨病院
第四木曜日
学会などで 予定が変更になりますので 詳しくはお問い合わせください。
プロスポーツ選手や芸能人などの診察は、医師の守秘義務の元 漏洩しないように 格別の注意を払って、診察をしています。詳しくはお問い合わせください。