December 08, 2005
アスキーアート ("Ascii Art")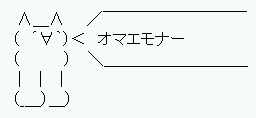 People in the internet love and use various アスキーアート ("Ascii Art"), the picture made of character sets.  The most common character is, I believe ,モナー (Mona). モナーwas born around 2000 and it has been developed by thousands of anonymous creators.
http://siruka.milkcafe.to/chara/mona02.html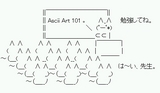 Then, モナー and his friends jumped out from the Internet and many people start drawing their pictures and making 3D figures. For example, see
JaQ's Collection
. He/She made a lot of 3D figures based on Ascii Art characters.

← And click this banner.
Here is another FLASH movie.→
ドル
Please watch it with audio.
モナー appears in many places, e.g., in
ひろみの絵日記
. Since many anonymous creators use and creat モナー, it becomes like a folklore in the internet.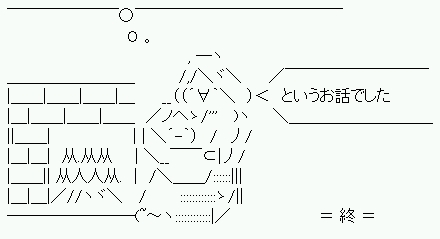 この記事へのトラックバック
1.
アスキーアート
[ CGの基礎知識 ]
December 12, 2005 06:27
アスキーアートアスキーアート(ASCII Art)は、アスキーコード(ASCII Code)の0x20〜0x7eに含まれる文字、記号によって描かれたアート。「テキストアート」「文字絵」とも呼ばれる。AAと略される事もある。主に顔文字などが主流だが、数行に渡って書くことで風景描写・写実画...